Miko Grimes: Brent Told Mike Smith He Was Retiring
January 10th, 2018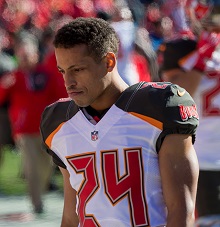 Interesting slice of Buccaneers history here from none other than mercurial NFL superwife Miko Grimes.
The loudest voice of the Grimes family, Miko, visited the WDAE-AM 620 studios recently with The Pat And Aaron Show.
Miko had plenty to say.
As to the future of Brent Grimes with the Buccaneers, Miko said "there's absolutely a chance" Brent plays next season but she's uncertain whether that's in Tampa. At this time last year, Brent was done with the NFL, Miko said, before the Buccaneers convinced him to finish his two-year contract and return.
"He said he retired last year. The last game [of the 2016 season] against Carolina, he literally said it in the parking lot to me and Coach Smith," Miko said of Brent. "And yeah, Coach Smith was like, 'Miko, no, we can't. This can't happen.'"
Obviously, Grimes came back to play in 2017. Miko said she was upset because when Grimes agreed to return for the season the team wouldn't guarantee his 2017 salary. "I didn't like that. I didn't appreciate it," Miko said.
But Brent played regardless and was good with it, she said. "He thinks like a team guy. You know, he's all about the team. I'm about money."
So now what?
Mr. Grimes turns 35 this summer and is much, much better than any cornerback on the Buccaneers. Losing him would mean adding to the list of nightmares for Jason Licht and Dirk Koetter.
"He wants to fight for this team. He loves this defense. He loves the secondary. He's gotten very close to those young guys. You can totally tell, like he's their daddy,' Miko said. "You know, and I think it's awesome. You know, you guys brought the smile back. He lost his smile in Miami [with the Dolphins]. And the smile is back. So I think that money can fix all the problems."
It sure seems like money is the only thing that's going to talk in this situation. Grimes was signed as a "bridge" free agent to Vernon Hargreaves. Well, now Grimes is a bridge to nowhere and the Bucs need him more than ever.
Pay the man.