"Good For Them"
December 8th, 2018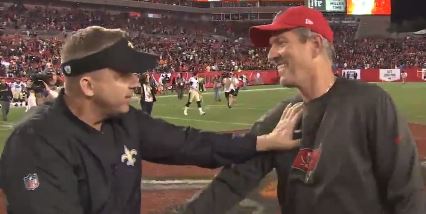 A media line of questioning irritated Dirk Koetter yesterday.
No surprise, but this one was a little more fun than most, and it's timely.
For those unaware, the weather prognosticators predict a strong likelihood of thunderstorms and rain just before tomorrow's Bucs-Saints game in Tampa, and there's a good probability of rain during the game.
Of course, wet weather can seriously disrupt a football game. Just ask Josh McCown.
This week, the Saints went public regarding their preparations for a wet Sunday, work that included practicing with a wet ball. Yesterday, TheAthletic.com Bucs beat writer Greg Auman asked Koetter whether he had his players work with wet balls this week and advised him that the Saints did.
Koetter appeared irritated by the question, lightly shook his head, and replied, "Good for them." The fun starts at about the 1 minute mark of the video below.
The optimist in Joe thinks the wet conditions should favor the Bucs. A little rain shouldn't get in their heads as much as it might for a dome team like the Saints.