McCown: I Couldn't Manipulate My Balls
November 26th, 2014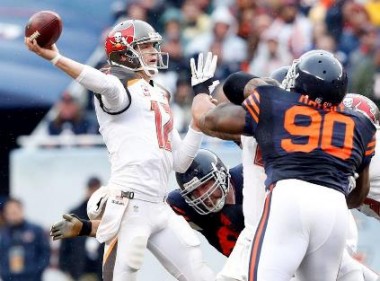 Josh McCown likes wet soggy balls and dry balls, but he's no fan of the kind of balls he was feeling in Chicago.
The weather greatly affected McCown on Sunday, he said. That makes it all the more stunning he attempted 48 passes, the most in his career.
Speaking last night on the Buccaneers Radio Network, McCown explained he's never been a wear-a-glove guy. So the light rain in Chicago wreaked havoc on his throwing ability.
Balls don't have a consistent feel in those conditions, McCown said, so as a QB he had to make feel-related decisions on every snap.
"When it's wet you lose the capacity to manipulate it, really. That's what was frustrating," McCown said. "[The Bears] were playing so much zone coverage that there were a couple of times, on dry days that I would go, 'Man, I would make that throw.' But now you're having to step up and check it down because you're like, 'I can't do what I want to with the ball today.' So, you know, it's part of it.'"
McCown said his balls felt good in the first half but not in the second.
There was no word on whether the weather affected McCown's ugly decision-making and ball security.
The 35-year-old said he doesn't rule out training this summer with a throwing glove so he can make that part of his game like Peyton Manning does.
Joe can hardly wait.