Dirk Koetter: Defense Has Not Been "Simplified"
December 8th, 2018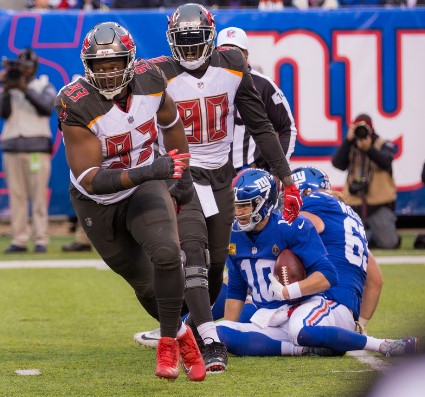 Enough of the outsider theories.
The ultimate Bucs insider, Dirk Koetter, is here to set you straight.
That's what the head coach does for fans on the Buccaneers Radio Network each week. And yesterday Koetter took a phoned-in question from a fan who wanted to know if there's validity to the chatter that new defensive coordinator Mark Duffner "simplified" the defense, which has led to better play.
Koetter threw a challenge flag on that one, saying he doesn't know where that talk could be coming from.
In fact, it sounds like Koetter believes the defense is more complex.
"I wouldn't say that [Duffner] simplified it any," Koetter said. "I mean, I think Duff and the defensive staff have done a good job of mixing up their looks. I think they've become a little more more multiple. We've been playing some different personnel groups, been putting some guys into different spots.  … I think he's just been doing a good job of mixing it up."
Coach Koetter went on to say players are buying in to Duffer and the staff better, and then Koetter quickly said that doesn't mean they were checked out before.
"I think the players have just done a good job of getting behind it and doing a their jobs on the field. And they are playing fast. There's no question they're playing faster and with more confidence," Koetter said.
Whatever factors led to the defensive transformation, the current Bucs defense has made it clear to Joe that Mike Smith was asleep at the wheel, and players were joining him. Even after shutting out the Steelers in the second half of that Week 3 game, the defense completely checked out over the next two games.
Joe's happy the Duffner change was made. If not, Koetter and the Bucs would be battling Chucky and the Raiders for the No. 1 overall pick.