Saints At Bucs, TV Map
December 8th, 2018
What do FOX executives and NFL suits know about tomorrow's Saints-Bucs game that Joe doesn't know?
A large section of the nation will be able to enjoy Drew Brees facing America's Quarterback, Pro Bowler Jameis Winston, at what is expected to be a soggy Den of Depression. Quite literally folks from coast-to-coast, from Cocoa Beach to Los Angeles and Seattle will get the game free on their local FOX affiliate.
Others will need NFL Sunday Ticket or to run to a bar to watch the game. Of course, Joe always recommends taking in the Bucs game and the full slate of NFL action at Abe's Place in Clearwater. The menu rocks.
Are higher-ups at FOX and the NFL expecting another fireworks show like what happened in Week 1? Or perhaps Jameis winning the game on a thrilling bomb with seconds left on a thrilling bomb like in the final game last year? This is all very interesting to Joe.
As always, this NFL TV map for Sunday's FOX broadcasts is courtesy of 506sports.com.
Hawaii will receive the Saints-Bucs game. The frozen people of Alaska will get Matty Ice vs. Aaron Rodgers.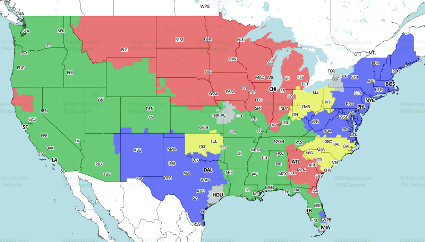 Green: New Orleans @ Tampa Bay (Kenny Albert & Ronde Barber)
Red: Atlanta @ Green Bay.
Blue: NY Giants @ Washington.
Yellow: Carolina @ Cleveland.
Gray: No game.