Curtain Calls & Shoves Out The Door
December 24th, 2018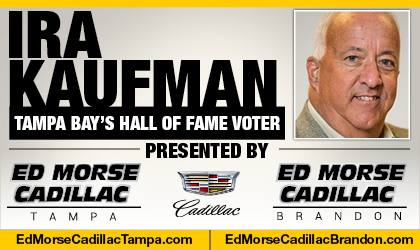 BY IRA KAUFMAN
When the Bucs trudge off the field Sunday afternoon, some players will know they'll be back in 2019. Some will know they won't be returning.
And a big chunk won't be sure, either way.
Another brutal season is lurching toward its conclusion as Tampa Bay tries to avoid a second consecutive 5-11 finish. The players want to win Sunday, the coaches want to beat the Falcons, but there are understandably mixed feelings among Buc fans — perhaps even among the ownership group.
A loss would ensure a better draft position next April and we have already seen the potential damaging ramifications of a Week 17 victory. When the Bucs rallied past the Saints last year, it cost them a shot at Quenton Nelson, a rare difference-maker at guard.
All Nelson did this year was make the Pro Bowl as a rookie and set a nasty tone up front for the resurgent Colts.
So who's coming back for sure in pewter next fall? Start with Mike Evans, Lavonte David, Jason Pierre-Paul, Ali Marpet and O.J. Howard. Add Ryan Jensen, Cameron Brate, Vita Vea, Carl Nassib and Chris Godwin.
You would think Cairo Santos, Kendell Beckwith, Carlton Davis and Jordan Whitehead are good bets to return.
O.K., let's talk about the former face of the franchise. Jameis Winston has a long way to go before joining the ranks of elite quarterbacks, but he'd be snapped up in a hurry if the Bucs let him hit free agency. That's a fact.
This franchise has a lot of sweat equity invested in the No. 1 overall pick of the 2015 draft and the Bucs stuck with Winston through his suspension. His teammates still believe in him, but he doesn't win often enough to merit unwavering support.
Winston is 3-5 this season and 21-32 for his career. Those numbers should give the Glazers pause, but in the end I think Winston will be back under a new regime to give it one more shot.
Last Call
Which players are heading toward their final game in Tampa?
I'd start with DeSean Jackson and Brent Grimes, followed by Noah Spence, Chris Conte, Jacquizz Rodgers and Ryan Griffin. Others likely to be bidding farewell include Caleb Benenoch, Will Gholston and Ryan Smith.
Then we've got a large middle class, unsure of their status.
Potential free agents include Donovan Smith, Adam Humphries and Peyton Barber (restricted). Smith's best asset is availability, but he's an average left tackle looking for big money. Humphries knows how to get open and he's sure-handed. The Bucs may have to overpay to keep him. With a better blocking line, I think Barber is a 1,000-yard runner.
Now it gets interesting.
What about Gerald McCoy? Six Pro Bowls, very active in the community, well respected among his peers. But after nine seasons toiling in Tampa without a postseason appearance, McCoy might be better off with a new work address. I wouldn't be shocked if the Bucs move on without big No. 93.
Beau Allen and Vinny Curry could be released, along with Mitch Unrein. Vernon Hargreaves might be on the way out, along with Ryan Fitzpatrick, Bryan Anger, Justin Evans, Evan Smith, Adarius Taylor, M.J. Stewart and we hardly knew ye Ronald Jones.
McCoy might not be the only Buc stalwart jettisoned in the offseason.
Demar Dotson, the team's longest-tenured player, faces an uncertain future and what about Kwon Alexander. coming off a major knee injury?
Alexander's leverage as a pending free agent has been compromised.
It's not far-fetched to think that David will be the only Buc left standing next fall from the group Jason Licht inherited when he assumed GM duties five years ago.
Sheesh. Talk about turnovers …
JoeBucsFan.com columnist Ira Kaufman is in his 40th year covering the NFL. "The Sage of Tampa Bay Sports" is also a TV star, seen weekly on the FOX-13 Tailgate Sunday show, and on Bay News 9. Also, Ira goes national every Wednesday at 5 p.m. on SiriusXM Mad Dog Radio with iconic host Chris Russo. The Ira Kaufman Podcast pops here every Tuesday and Thursday, and Ira fires away with Derrick Brooks on TAMPA TWO, a production of The Identity Tampa Bay and JoeBucsFan.com.