Final Bucs Game Upcoming For Cameron Brate?
December 24th, 2018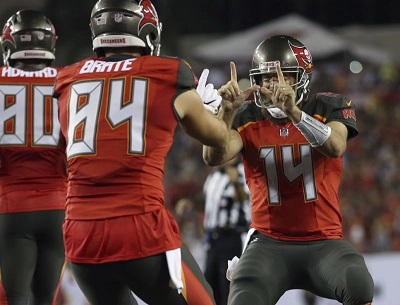 Cameron Brate hasn't had one game this season with more than 36 yards receiving.
That's not why Team Glazer and Jason Licht opened the vault to pay him back in March.
After tight end O.J. Howard was injured and lost for the season against the Giants, Brate reclaimed the feature role at the position. In the five games since, Brate has a combined 11 catches for 91 yards and three touchdowns.
And that's all with Jameis Winston starting at quarterback. They're supposed to have great chemistry together, but that's quickly become an urban legend.
There is an out in Brate's contract. He is due $7 million next season but only if he's on the roster on Day 5 of the "league year," which is in mid-March.
So let's perform some NFL valuation: Is a one-dimension, No. 2 tight end coming off a rough season worth $7 million a year? No.
Joe's not ripping 27-year-old Brate here, but reality has to win out.
When the Bucs gave Brate a contract extension, he was a wonderful luxury. Now he feels like a waste on a roster with a load of holes and question marks on defense, and with a shaky offensive line and a poor rushing attack.
No matter who is running the Bucs next year, Joe would love to see the trade market for Brate explored.