Vita Vea And Playing Off The Line Of Scrimmage
November 15th, 2018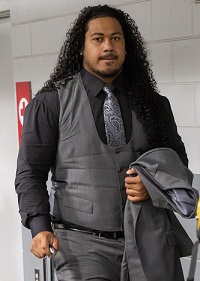 Joe's watched curious Bucs film of Vita Vea, and Joe's not talking about why former Bucs Warren Sapp and Ian Beckles call him "Velcro."
For some reason, Vea does not line up hovering right up to the line of scrimmage. He nearly always appears a half-step behind the other defensive linemen. Fellow nose tackle Beau Allen is right up to the line, so it's not like that's how Bucs coaches mandate play at the position.
Strangely, Joe also has seen Vea do this on special teams.
A great example is on the extra-point (defense) after the Redskins scored their first touchdown of the day Sunday in the fourth quarter. Vea is alongside Will Gholston up the gut of the defense and Vea is visibly behind him.
Joe asked defensive coordinator Mark Duffner about this and Duffner didn't deny it was happening. His implied that Vea gets to choose based on his comfort.
"Really, the defensive line, they all have alignments based on what their gap responsibility is and often times a little bit on the ability of the lineman, 'How can I play my responsibility best?'" Duffner said. "So, whether they're a little tighter or a little bit off, a lot of times that's just based on the individual player's ability to defend and play what his responsibility is."
Joe wonders if Vea might have more success lining up tighter. His get-off isn't special and it might give him a better shot at catching offensive linemen off balance.
Just something to think about as we all watch the No. 12 overall pick evolve before our eyes.