Hamstring Injury Emerges For Ryan Jensen
November 15th, 2018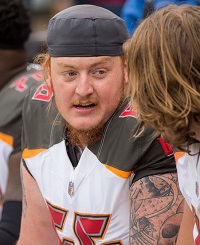 No, this has nothing to do with center Ryan Jensen rolling a snap back to Ryan Fitzpatrick to quash a second-half drive against the Redskins.
Yesterday, Jensen did not appear on the Buccaneers' official injury report. But today he was listed with a hamstring injury and was "limited" in practice.
That timing usually means something happened in practice.  There's always a chance it was a hot-tub/champagne injury, but Joe doubts that. Jensen isn't former Bucs running back Derrick Ward, king of the South Tampa pool party scene.
Man, Joe's got fingers crossed that Jensen stays healthy. A 40-degree day at the Meadowlands on Sunday isn't the best tonic for a bad hammy. Jensen hasn't had a great year, but the alternative is a scary thought.