Ex-Buc: Warren Sapp Is Skeptical Of Vita Vea Pick And Questions Jason Licht's Moves
May 10th, 2018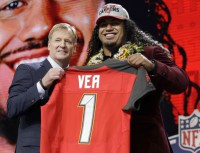 When the phone rings on a Saturday night and the caller ID says "Sapp," you pick up the phone, especially if you're looking for some entertainment.
This was the case for former Warren Sapp teammate and ex-Buccaneers guard Ian Beckles (1990-1996).
Beckles is still hammering away at his local radio career for 102.5 FM The Bone, and via two podcasts with Radio Influence. On In The Trenches this week, Beckles explained that while "sipping on a Tito's and soda" he answered Sapp's phone call on Saturday because he thought perhaps someone died.
Nobody had passed away. But Beckles said Sapp was intense as ever and the two engaged in a two-hour conversation primarily about the Bucs and football.
Beckles made it very clear that while he loved the first-round draft pick of Vita Vea, Sapp was highly skeptical.
Sapp's reasoning? Football players at 350 pounds can't exist in Florida, especially west coast guys. "He's very adamant about this," Beckles said of Sapp.
Per Beckles, Sapp also was critical of Jason Licht's moves. And Beckles agreed.
Sapp was shaking his head at Bucs coaches, Beckles said, despising the Bucs' 3-3-5 alignment on nickel packages.