Will Big Bucks = Run Game?
October 9th, 2018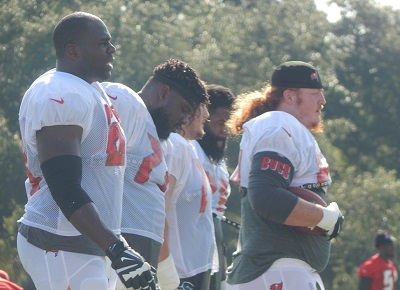 Your beloved Buccaneers just valued — and paid — Ali Marpet as one the top left guards in the NFL.
And he plays alongside the guy made the highest paid center in the league in March.
On the other side of Marpet is a left tackle who could get the franchise tag next season, if the Bucs aren't willing to pay him the fat contract he would command on the open market when his contract expires after in a matter of weeks.
Yes, the Bucs believe they are loaded with talent on their O-line.
What makes that intriguing is how much the Bucs have struggled to run the ball over the past 36 games. Something to think about as you count the hours before the Bucs-Falcons game on Sunday.
Joe isn't dwelling in the past, but there's certainly no logical reason why the Bucs can't rediscover their ground game Sunday against a deplorable Falcons defense allowing 4.9 yards per carry and eight touchdowns through five games.