Copycat Time
October 9th, 2018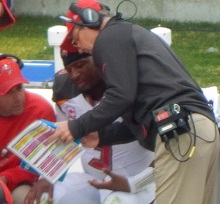 One of Joe's friends in the business, the esteemed D. Orlando Ledbetter of the Atlanta Journal-Constitution, thinks the Bucs might do what the Steelers did Sunday to further neuter the Falcons' shaky defense.
Those who listened to the award-winning Ira Kaufman Podcast today heard the Sage of Tampa Bay sports whiff when asked to name the Falcons starting defensive ends two days ago in Pittsburgh. They were Brooks Reed and the immortal Steven Means, the former Bucs fifth-round pick in 2013.
Is it any surprise the Falcons had no pass rush, especially with DT Grady Jarrett out injured?
This was all part of the Steelers' strategy, Ledbetter explained, speculating the Bucs would employ the same tactic.
Bucs may copy Steelers' 21 package

The Steelers opened against the Falcons with 21 personnel – two tight ends, one running back and two wide receivers and forced the Falcons to play their base defense.

The Falcons answered the grouping by playing their base 4-3 alignment, which kept Vic Beasley and [Takkarist] McKinley off the field. Brooks Reed and Steven Means opened the game and played 34 and 23 of 61 defensive snaps respectively.

"They did a good job, they forced us to play a lot of base (defense)," McKinley said. "Me and Vic, we don't play too much base. They did a good job the first pretty much three drives forcing our defense to play base. There was pretty much nothing we could do about that. When the opportunity comes, we have to perform."

McKinley and Beasley both would like to play in the base defense.

"You have to ask DQ," McKinley said, referring to head coach Dan Quinn.
There's plenty more via the link above, where Ledbetter explains how this set up the Steelers' running game for a big day.
What's interesting to Joe, and it lends a little clarity to the unrest in Atlanta, Beasley are McKinley are first-round draft picks … and they can't get on the field in base defense?
If the Bucs can't run the ball and/or put up 30 points on Sunday, Joe might need a safe place in which to vomit.
Can't-miss TAMPA TWO below! Click play below and soak in the knowledge as Derrick Brooks and Ira Kaufman go deep on the state of the Bucs at the 2018 quarter pole.  It's the hot new show by The Identity Tampa Bay and JoeBucsFan.com presented by Caldeco Air Conditioning & Heating.