Vita Vea Injured On First Play Of Fourth Quarter; Bucs Dodge Bullet
October 29th, 2018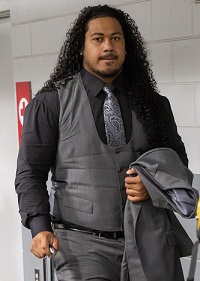 Manbeast first-round pick Vita Vea has had an awfully rough start to his career.
First it was a calf injury in late July that cost him two months. Now Vea has a bad knee.
The Bucs feared it was a dreaded ACL injury, Dirk Koetter said today, but an MRI came up negative. Great news! So it's not terribly serious, Koetter said.
Koetter said the injury occurred yesterday on the first play of the fourth quarter and the Bucs feared the worst.
Vea was walking around well today, Koetter said, but that's not exactly a medical report.
All eyes now on the official Wednesday injury report.
It's bad enough the Bucs draft class of 2018 has been largely an MIA squad this fall. Things could have been worse.
So Bucs fans can breathe a sigh of relief. On a day the Bucs lost their franchise quarterback, they almost lost a starting defensive tackle as well.