Marching To Minus-30
October 29th, 2018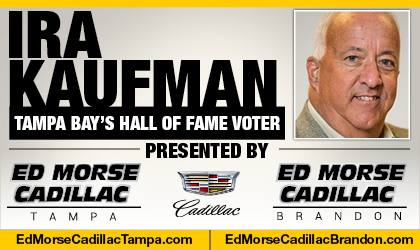 BY IRA KAUFMAN
What a waste. What a colossal waste.
What a damned shame.
This Buc offense, crafted by Dirk Koetter and Todd Monken, is the best in franchise history … by a wide margin. But that's not all.
At the current pace, the Bucs would threaten the all-time NFL record for total yards in a season, set by the 2013 Broncos. That was the year Peyton Manning threw 55 TD passes for the AFC champions.
The Bucs don't have Peyton Manning.
Monken and Koetter deserve credit for orchestrating an attack that ranks No. 1 in total offense, No. 1 in first downs, No. 1 in passing yards, fourth in third-down percentage and seventh in scoring.
Explosive plays in the passing game are way up, with Tampa Bay tied with Green Bay for the league lead with 10 completions of 40 yards or more. That's already as many 40-plus yard completions as in the past two seasons combined. Yet here the Bucs sit at 3-4 heading into Carolina, where Tampa Bay is listed as a 7-point underdog.
What a travesty.
The top 10 scoring teams in this league are a combined 50-23-1. Only two of those clubs are saddled with a losing record — Tampa Bay and Indianapolis.
News flash: the Bucs have far more talent than the Colts.
Despite all that success through the air, the combined passer rating for the Bucs is 96.7. That sounds like a big number, but in these wide-open times, that rating ranks 15th, lower than the Dolphins or Bears.
Ouch.
These Bucs can't get out of their own way. They keep giving opponents extra possessions, like they were handing out Halloween candy.
Every year, Dirk Koetter stands at a podium and reminds anyone who will listen that turnovers tell the tale. This week, he should wear tape across his mouth and just point to a chart that shows the NFL's worst 10 teams in terms of turnover ratio are a combined 24-52. And among the Bucs, 49ers, Jaguars, Raiders, Cardinals, Eagles, Ravens, Bills, Lions and Giants, not one boasts a winning record.
Not a single one.
Unless things change markedly in the next two months, the story of the 2018 Bucs will be written in blood, a tale of self-inflicted wounds. Too many giveaways, not enough takeaways.
This dazzling offense earns everything it gets. Where are the short fields, courtesy of an interception?
You're kidding, right?
The franchise record for fewest picks in a season is 9. This club is on pace for 2. The franchise record for worst turnover differential in a season is minus-20.
This club is on pace for minus-30.
Give it up for this butter-fingered bunch. The 2018 Bucs are exciting to watch and beyond frustrating to stomach. NFL records are within their grasp should they learn to hold onto the football.
Huddle up, guys. 1-2-3, ball security.
Now in his 40th year covering the NFL, Ira Kaufman is the most revered sports personality and writer in the Tampa Bay area. He scored a full-time seat at JoeBucsFan.com world headquarters in July of 2016. Tampa Bay's only Pro Football Hall of Fame voter busts out columns here every Monday, Wednesday and Friday, and his award winning podcasts fire Tuesdays and Thursdays. You can also hear Ira on SiriusXM Mad Dog Radio Wednesdays at 5 p.m. Also a TV star, Ira is part of the FOX-13 Tailgate Sunday NFL show at 10:30 a.m. He's also on BayNews 9 Mondays & Wednesdays at 10:30 p.m. "The Sage" enjoys beet salads, Riesling, tennis, Bette Midler, Chiefs victories and needling Joe. …WATCH IRA AND DERRICK BROOKS on the new TAMPA TWO show from The Identity Tampa Bay and JoeBucsFan.