Report: Bucs Visit With CB Bashaud Breeland
September 11th, 2018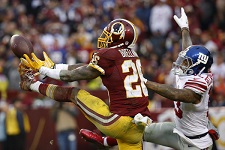 Six months ago, Bashaud Breeland was a 26-year-old cornerback with a shiny, new contract from the Carolina Panthers for $8 million per season.
Then he failed a physical because of an infected foot following a laceration in the Dominican Republic.
That let the Panthers bail on his contract and Breeland has been unemployed every since. Breeland has visited with several NFL teams and made his way to the Bucs after Sunday's victory, per ESPN.
Brent Grimes has a groin injury (odd to Joe that he didn't travel to New Orleans with the team) and Vernon Hargreaves' injury against the Saints will knock him out of Sunday's game against the Eagles. The Bucs, one could say, have a cornerback emergency.
Certainly, Breeland wants to be paid, at least a very strong one-year deal. He spent the last four seasons as a starter with the Redskins, missing just four total games. He was mentored closely his rookie season by former Bucs head coach Raheem Morris, a known defensive backs guru who was then with Washington.
Breeland was known for his extreme dedication, which led him from fourth-round pick to productive starter in a hurry.
Joe doesn't know how the Bucs might proceed. All of a sudden, everyone associated with the Bucs feels much more confident that Tampa Bay could be a playoff team. Signing Breeland would be an all-in kind of move.