Injured Vernon Hargreaves Will Not Play Sunday; Bucs Sign New Cornerback
September 11th, 2018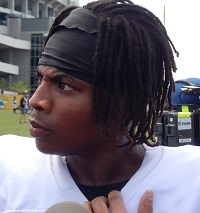 Joe's got bad news.
Vernon Hargreaves will not play Sunday against the Eagles, Joe has learned. The Bucs are hopeful he can return against the Steelers.
Fans watching on TV saw Hargreaves leave the field holding his arm, and the buzz was not good in the Bucs locker room. Joe was told today by a reliable source that Hargreaves will miss at least one game.
Tomorrow, the Bucs will release their first required injury report of the week, which will name Hargreaves' injured body part.
This afternoon, the Bucs signed cornerback Marcus Williams, who has bounced around the NFL and was last in Saints training camp this summer before being cut. Williams has 49 career games under his belt with 27 passes defensed and 10 interceptions, six with the Jets in 2015.