The Vernon Hargreaves Injury
September 12th, 2018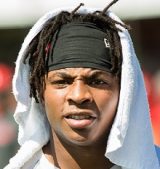 Joe wasn't going to touch this since there really isn't anything to update. But since it is all over the interwebs, Joe felt he better address it.
As Joe reported yesterday, Bucs cornerback Vernon Hargreaves is out for the Eagles game Sunday. Joe also saw Hargreaves with his left arm in a sling in the locker room after the season-opening win over the Saints. Feel free to connect whatever dots you wish with this information.
Last night there was a report floating around — not from any of the Bucs beat writers or from BSPN or NFL Network — that Hargreaves is out for the season. That report is premature. Joe, along with just about everyone else who covers the Bucs, learned last night from team sources that Hargreaves is seeking a second opinion about his injury.
Again, feel free to connect any dots you wish armed with this information. Joe's not even going to attempt any guess what specifically the injury is or the severity of the injury.
We will know more later today when the first official injury report is released for the Eagles game. As of this writing (late Monday night) it seems realistic to expect Joe's biggest fear throughout the offseason coming true for the game with the Eagles: the Bucs are looking at two rookies and/or Ryan Smith as your starting corners because of injuries to Hargreaves and Brent Grimes.
Other than that, how was the play Mrs. Lincoln?
Good morning.