Knocking Off The Champs
September 7th, 2018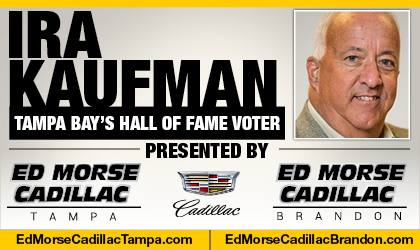 BY IRA KAUFMAN
Ever since Drew Brees and Sean Payton joined forces in 2006, NFL defensive coordinators haven't slept soundly heading into Saints week.
In the past 12 seasons, New Orleans has ranked sixth or better in total offense every year, including six No. 1 finishes. Seven times in that span the Saints boasted a Top 5 scoring attack.
The wide receivers, tight ends and running backs may churn in the Big Easy, but that overworked scoreboard keeps putting up crooked numbers.
But let's not forget the other side of the equation heading into Sunday's season opener.
The Saints made significant strides on defense in 2017 en route to a division title. That's how they vaulted from three consecutive 7-9 finishes to an 11-5 mark and that's a big reason why they are favored by 9 1/2 points against the Bucs.
"They're got a lot of good players on that side of the ball," says Caleb Benenoch, who will open at right guard in the Superdome. "But this offense has shown we can get things done. Guys have bought into what we're doing around here and things are moving in a positive direction."
While Tampa Bay's pass rush remains the key to victory, the Bucs are highly unlikely to spring a major upset without a productive ground game.
Breaking 20
Check it out.
When the Bucs attempt 20 rushing plays or fewer, they are 1-16 in the past five seasons. And while the Saints topped the NFC with 20 interceptions last year, they were vulnerable against the run, yielding 4.4 yards per carry.
That's why Peyton Barber could very well be the difference on Sunday.
"He runs hard and we know he's going to finish," Benenoch says. "That makes you want to block for a guy like that. Peyton's going to keep fighting, leaning forward."
In 2015, the Saints ranked dead last in scoring defense. The next season, they inched up to 31st, slightly less awful.
The big breakthrough came last fall, when New Orleans allowed the 10th fewest points in the league. Cornerback Marshon Lattimore was the catalyst, picking off five passes and earning Defensive Rookie of the Year honors while getting in the head of Mike Evans.
Model McCoy
Up front, Cam Jordan has joined the ranks of the NFL's premier defensive ends. Unlike most elite pass rushers, he usually lines up on the left side, so Demar Dotson faces quite a challenge.
Defensive tackle Sheldon Rankins, the 12th overall pick in the 2016 draft, has developed quickly after studying tape to learn Gerald McCoy's favorite technique.
"A cross-chop, chop-swat, whatever you want to call it," Rankins says. "That move, a lot of guards sit with their hands low and try to punch up, so if they're hands are down, you chop their hands, swat the shoulder and you're able to get around. That move, coming out of college, I didn't have it."
The Saints almost doubled Tampa Bay's sack total last season, dropping quarterbacks 42 times. Jordan was credited with 13 of those takedowns and in last year's season finale, Jordan registered 4 unassisted tackles, 1 sack, 1 tackle for loss and 3 QB hits.
"It's a challenging front," says Ali Marpet, "but I like our group. I like the guys we brought into our building. Leadership in the NFL is pretty big. The talent level between teams is minimal, so what often makes the difference is your desire to win. I know there will be great energy in their building, but we've won there. No reason we can't do it again."
Now in his 40th year covering the NFL, Ira Kaufman is the most revered sports personality and writer in the Tampa Bay area. He scored a full-time seat at JoeBucsFan.com world headquarters in July of 2016. Tampa Bay's only Pro Football Hall of Fame voter, Ira busts out columns here every Monday, Wednesday and Friday, and his award winning podcasts fire Tuesdays and Thursdays. You can also hear Ira on SiriusXM Mad Dog Radio Wednesdays at 5 p.m. Also a TV star, see Ira now on Mondays at 10:30 p.m. on Spectrum Sports 360 (aka BayNews 9). Ira also is part of the FOX-13 Tailgate Sunday NFL show and enjoys beet salads, Riesling, tennis, Chiefs victories and needling Joe.