Mark Dominik: Bucs Are 9-7 Type Of Football Team
September 7th, 2018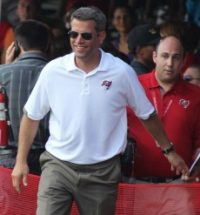 The Bucs' former rock star general manager served up thoughts about his beloved team.
Yes, Mark Dominik remains a Bucs fan and he was chatting it up yesterday on local sports radio.
Joe realizes many fans are a little burned out on all the speculation at this point and just want to see the Bucs play a game, so Joe will summarize Dominik briefly.
Dominik sees the talent overflow on the Bucs roster but also sees a loaded NFC and he knows all about the Bucs' tough division. Tampa Bay's supremely difficult schedule can't just be brushed off as a typical year, Dominik said on WDAE-AM 620.
Still, the talent infusion on the defensive line and the addition of two "long" rookie cornerbacks has Dominik bullish on the Bucs. Dominik sure loved those long corner during his time in Tampa. Unfortunately, Myron Lewis and Jonathan Banks didn't work out.
Dominik called the Bucs "a 9-7 type of football team" and believes a key to the season will be how well Ryan Fitzpatrick actually plays when the whistle blows.