Looks Like DeSean Jackson Will Get His Wish
August 22nd, 2018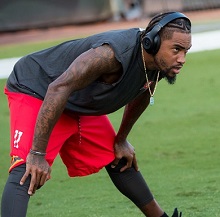 Last week, Joe brought you exclusive chatter from DeSean Jackson saying "he 100 percent" wants to be a punt returner again.
Tonight, Jackson appeared to send a message on social media that he will be doing just that for the Buccaneers.
After 7 p.m., Jackson posted the following message from his "OneOfOne" Instagram account: "We bringing bac that wave 🌊 this year !! Let's go .. #0ne0fone Year 11." It was accompanied by a video of one of his punt returns for a touchdown as a member of the Philadelphia Eagles.
Jackson has returned a grand total of three punts in the past four seasons for a paltry -5 yards. But he's been fielding a lot of punts in practice this season and there's little doubt he's the most dangerous punt returner on the Bucs' roster.
Dirk Koetter is hungry for explosive plays. Jackson is hungry to showcase his explosiveness (keep in mind his guaranteed cash runs out after this season). It's beautiful combination. And frankly, this game is supposed to be about entertainment and playing fearlessly.
Using Jackson as a punt returner would send a great message of urgency, and it would be damn exciting. And what's wrong with that?