DeSean Jackson: I Want To Return Punts
August 15th, 2018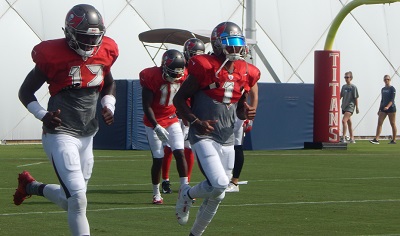 DeSean Jackson has returned a grand total of three punts in the past four seasons for a grand total of -5 yards.
But that's a tiny sample size for a guy who once was one of the great returners in the game.
Joe talked to Jackson 1-on-1 in Tennessee today after the Bucs squared off with the Titans in a joint practice in advance of their preseason game on Saturday.
Jackson has been seen in practice fielding punts — not today — but he's yet to have a return for the Bucs.
He wants that to change.
Joe was very direct with Jackson about whether he really wants to be a full-time punt returner at 31 years old.
"100 percent. 100 percent. I'm back there. Man, give me the call. I'm here, Coach," Jackson said. "I loved [returning punts]. That's what I do. It's just a niche I have for the game. I just think get me back there in space and having the ball in my hand, it's something I look forward to doing. Hopefully, I get my number called."
There are few guys earning eight figures a year who want to expose themselves to the shots punt returners often get.
But perhaps Jackson, who returned four punts for touchdowns during his first three seasons with the Eagles, sees punt return as a way to show more of his value amidst a Bucs receiving corps that's loaded with talent.
Ironically, Jackson was acquired last year during the offseason of explosive plays. It was the focus of Dirk Koetter last season and it's why Jackson was brought here. But that didn't work out.
Yeah, there's heightened injury risk, but Joe would love to see the leash come off Jackson and let him scare the crap out of the Saints special teams coordinator on opening day.
As for working against the Titans, Jackson said he was energized by working against stud Titans cornerbacks Malcolm Butler and Adoreé Jackson.