Gut Reaction
July 24th, 2018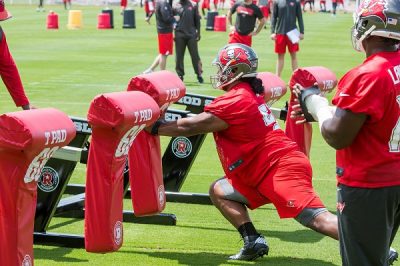 Close your eyes and imagine that freakish 6-4, 347-pound rookie defensive tackle Vita Vea actually is the brutal-to-block force the Bucs hope he is.
That would change the Buccaneers defense instantly.
Joe already knows top offensive coordinators gameplan to stop Gerald McCoy, and Jason Pierre-Paul is that feared guy, too, as Redskins coach Jay Gruden eloquently explained to Joe in March.
And suppose the manbeast, raw Tongan strength Vea displayed in college translates to the NFL? Then that trio looks like it could be the best in the business and everything about the Bucs defense transforms from Day 1.
It's a dream, but the leap to reality doesn't feel too far off.
CBS Sports NFL insider Prickly Pete Prisco is feeling the same way, too, and he sits down with other NFL analysts to talk Vea and the Bucs' defensive line via the video below. Prisco, who covered the Jaguars when Mike Smith was a highly successful defensive coordinator, notes how size up the gut is a big key in Smith's defense.