Mike Evans Wants To Emulate Defensive Backs
May 26th, 2018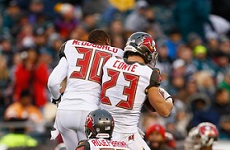 More swagger, more often, is needed, Mike Evans explained earlier this week.
On how to maintain that through a game and a season, well, Evans has an idea.
Evans says the answer could lie in the mentality of guys like Brent Grimes and Chris Conte.
"You know, I've always been impressed with defensive backs, like, they'll get beat and then they'll come back and just make more plays," Evans said. "They don't care about getting beat or anything like that. So I think everybody needs to have that mindset: offense, defense, special teams whatever position you are. You know, you can't get that play back. DBs really have a good mindset when it comes to that. So I think everybody on our team should have that mindset."
Joe feels good hearing that Evans is further exploring the mental side of the game. He's had a history of sporadically losing his cool, which has led to penalties and even a suspension last year.
But that's the stuff fans see. What about the times when Evans doesn't let something go and it affects him for the rest of a series?
Still 24 years old, Evans is a maturing player on the rise. Maybe this is the year he becomes more like those great defensive backs in his approach.