Inside The Licht Five
May 26th, 2018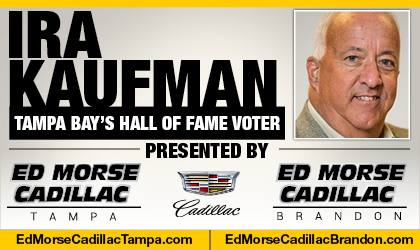 BY IRA KAUFMAN
When Beau Allen agreed to become a Buccaneer March 15, he had no idea he was joining the revolution.
Allen signed with Tampa Bay one day into free agency, figuring he would replace Swaggy Baker next to Gerald McCoy in the department of the interior.
What he didn't know at the time was the shakeup that would follow as the Bucs addressed their No. 1 offseason issue in dynamic fashion.
On the day after Allen arrived, the Bucs signed Mitch Unrein from Chicago. Allen's former Eagle teammate, Vinny Curry, joined the overhaul 24 hours later. On March 22, Jason Licht pulled off the trade that brought Jason Pierre-Paul from the Giants.
That made four new defensive linemen added within a one-week span as Stick Carriers rejoiced from Pinellas Park to Plant City.
The Bucs, however, weren't quite finished. They tossed in one rather large final piece on the opening night of the draft, so I pulled Allen aside after an OTA session on the same day Vita Vea scrawled his name on the dotted line.
"I like our group a lot," said Allen, who will compete against Vea for playing time at nose tackle. "I think we're like-minded individuals. We all want to win, and when you have guys who all think like that, it can carry you a long way."
You don't need the NFL's investigative unit to figure out why Tampa Bay's defensive front will feature at least five new faces this fall.
Did you see last year's pass rush?
But there's more. The Eagles, 50-1 longshots to win the Super Bowl before the 2017 season began, now own the Vince Lombardi Trophy, led by a deep and talented defensive line.
Forcing The Issue
Philadelphia GM Howie Roseman just might be Licht's closest buddy in the business and it's no coincidence that the Bucs are trying to emulate the Eagles model.
"I love our depth — the more the merrier," says Allen. "The thing I always think about is if you have a deep unit, it goes a long way, not only late in games but also late in the season. We had that going on last year in Philly. You can wear down O-lines over the course of a game."
In the NFL, when defensive linemen hunt, everyone feasts.
"It all starts up front," says second-year safety Justin Evans. "If you have a great D-line, you have a great defense. D-line great, that makes the linebackers great because they don't have offensive linemen pushing up on them … they're making more tackles.  And we don't have to cover for that long."
I asked Evans what happens when quarterbacks don't have enough time to go through their progressions.
"Then he gets sacked," Evans said with a smile.
Stopping History
The season opener in New Orleans will provide an immediate referendum on this offseason makeover. Drew Brees has been tormenting this organization since 2006 and few teams have been successful at putting him on his rump.
Throughout a Hall of Fame career, Brees has been sacked on only 3.9 percent of his pass attempts, sixth-best of all time. The top spot is shared by Peyton Manning and Dan Marino, who will welcome Brees to Canton.
"We have to look at that first game as an opportunity," Allen says. "There's not anybody on our roster or in our building shying away from that. You have to love it. It's not a daunting task — we're excited about it."
Ira Kaufman is the most revered sports personality and writer in town. He has hung his hat at JoeBucsFan.com world headquarters since July 2016. Tampa Bay's only Pro Football Hall of Fame voter, Ira busts out columns here every Monday, Wednesday and Friday, and his award winning podcasts fire Tuesdays and Thursdays. You can also hear Ira on SiriusXM Mad Dog Radio Wednesdays during football season, and see him now on Mondays at 10:30 p.m. on Spectrum Sports 360 (aka BayNews 9). Ira also is part of the FOX-13 Tailgate Sunday show and enjoys beet salads, Riesling, Chiefs victories and needling Joe.