Evans Says "More Swagger" Is A Focus
May 22nd, 2018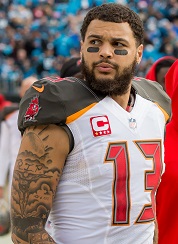 Bucs stud receiver Mike Evans visited with Joe and local media after practice and one topic was defense.
Players have been back in the house for a month, conditioning and participating in the first "OTA" practice today.
Joe asked Evans whether he's detected a different vibe or feel from the defense over the past month.
"We're trying to, you know, emphasize more confidence and more swagger," Evans said. "We tried that last year and we started off pretty good until, you know the first game of the year guys got hurt and then kind of lost that a little bit. We're just trying to do that this year, just keep the confidence and the swagger because we know we have a really good team and we know we can play with anybody and beat anybody if we play our best ball.  So we're just trying to have that swagger and make it fun."
It's a noble goal there by Evans and the Bucs. Joe has talked to Evans about "swagger" previously, and he's definitely a strong believer that it matters.
The Bucs might need a lot of belief and attitude, "swagger," to pull off an opening day win under extreme stress in the Superdome.