Bad Times For Vernon Hargreaves
April 28th, 2018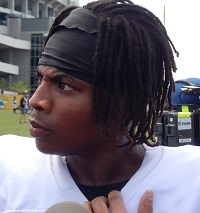 Man, cornerback Vernon Hargreaves' stock is sinking faster than Joe's pants without a belt.
And both of those sights are ugly.
Two years ago, general manager Jason Licht had just drafted Hargreaves with the No. 11 overall pick and was glowing about his "instincts, his football intelligence, his quickness, his ball skills."
Licht even mentioned that he knew Hargreaves' football-coach father for 18 years and that Hargreaves had a solid foundation as a "football guy."
In 2016, Hargreaves had a decent rookie season with expected growing pains. The Bucs finished 9-7 and he literally took nearly every snap at outside cornerback.
And then the bottom fell out last season. Hargreaves was benched quickly, relocated to nickel cornerback and then blew out his hamstring.
Yesterday saw another hole poked in the Hargreaves balloon. Tampa Bay drafted two cornerbacks in the second round: M.J. Stewart out of North Carolina and Carlton Davis from Auburn.
Dirk Koetter's post-draft chatter with media sure sounded like a guy who had little expectation of Hargreaves playing outside corner again any time soon.
Sure, nickel is an important position, but that was not the grand plan for Hargreaves — or any other cornerback drafted that high. Still just 22 years old, it feels like Hargreaves has just about hit rock bottom with Bucs officials with a final chance to pull himself up.
Ronde Barber said last month that Hargreaves is the third-most talented cornerback in Bucs history after Aqib Talib and Donnie Abraham.
What the heck happened?
Joe really hopes the Bucs' draft haul at corner was one huge wake-up call to Hargreaves.