Ronde Barber Ranks Vernon Hargreaves In "The Lexicon" Of Bucs Cornerbacks
March 30th, 2018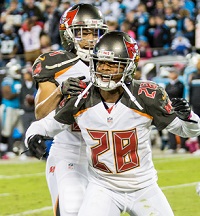 Joe already shared Ronde Barber's somewhat depressing and informal state of the Buccaneers cornerbacks address on local radio this week.
But there was more.
During the chat on WDAE-AM 620, Barber was glowing about the raw talent and occasional on-film brilliance of disappointing cornerback Vernon Hargreaves, who Barber admits has yet to play close to his potential.
Barber says Hargreaves is one of the all-time greats at the position when it comes to 40-plus years of Buccaneers football. The loquacious Barber said "in the Bucs' lexicon" of cornerbacks talent, it goes Aqib Talib, Donnie Abraham and then Hargreaves.
Yes, that's how good Hargreaves could be.
But he's not.
"I see movement that's rare. I see a guy that can do anything," said Barber, who added Hargreaves will be better when he understands his limitations and figures out how to harness his talent.
Barber said the Bucs "figured out how to make [Hargreaves] viable for this defense" (aka moving him to nickel cornerback) but his hamstring injury got in the way.
Man, Hargreaves is one giant X-factor this season. Even if he can be a truly great nickel corner and stay healthy, that will represent a big upgrade.