What Should We Learn From Sims & Martin?
March 31st, 2018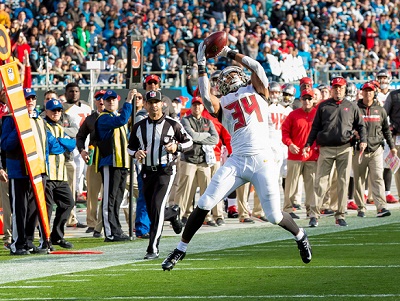 A quick analysis of what running backs got the majority of snaps in Dirk Koetter's offense last season has Joe in deep thought.
Is the glass half full or half empty?
No running back was on the field more for the Buccaneers last year than Charles Sims with 380 snaps. The 27-year-old is currently unemployed.
Think about that for a minute.
No, Joe doesn't have all potential facts, but Sims finished 2017 healthy and was the only player Dirk Koetter publicly said had an "outstanding" training camp last summer. Sims, a third-down-specialist, also flashed a handful of times during the season and actually averaged more than four yards per carry in limited touches. He wasn't in any public trouble during his four Bucs years.
Second on the team in snaps was Doug Martin with 287.
There was scant interest in Martin after the Bucs spared innocent Tampa Bay fans by cutting him in February following two dreadful seasons. Inspired by a deceased mentor, Chucky pulled Martin off the street and will try to resuscitate his career in Oakland.
Still on the roster, thankfully, are Jacquizz Rodgers (168 snaps) and Peyton Barber (254). …All snaps data is from Pro Football Reference.
So why did Koetter rely so heavily on two undesirable running backs? Was the evaluation process flawed? Was Koetter too loyal? Was Koetter overly focused on pass blocking to the point of detriment? Was the running backs coaching flawed? Those are serious questions when combined with the knowledge Barber and Rodgers were better running backs.
We know the Bucs were chasing a premier free agent running back a few weeks ago but bowed out. Ok. You can't win every hunt and still spend monstrous money on two defensive linemen.
Now the Bucs are deeply in need of a running back in the draft and Joe is concerned because the Koetter-Jason Licht regime has made too many bad decisions at the position, and Koetter has little history with rookie backs in his 11 NFL seasons.
As Joe wrote 178 times before and during last season, Joe firmly believes the Bucs are significantly better at the position by the sheer elimination of Martin. Joe also prefers Rodgers over Sims. So the Bucs have upgraded already.
Still, they desperately need a rookie back who can contribute in a hurry — something that hasn't happened in Tampa since Greg Schiano prowled the sidelines. It's a massive X-factor for this season.