Chucky Says Signing Doug Martin Was A Bill Walsh Move
March 27th, 2018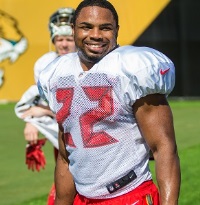 You just can't make this stuff up, though it is almost expected in the wonderful world of the Buccaneers soap opera.
Earlier today at the annual NFL coaches breakfast, Joe dispatched sage columnist Ira Kaufman to ask Chucky what he saw on game film that made Doug Martin a good signing for his Raiders this month.
Based on the response, it seems Chucky was looking at rather old film and Martin was a deal inspired by deceased Hall of Fame coach and personnel man Bill Walsh.
"We didn't pay him the $15 million signing bonus. It's not like we took a huge contract. I thought him coming to play for us, with what we signed him for, sent a message — 'hey, I want to prove I can still play.' " Chucky said of Martin.

"I've seen him play great football in Tampa. And there's an old philosophy I learned from Bill Walsh a long time ago: if a player has played great in the league before, there's a chance he can play great again. And Doug Martin has played great football in this league. He's 29 years old and we can afford it. It's not a huge risk. It's a gamble I think is worth taking. I think he's got something to prove. He needs a new lease on life. I think he needs a new chance and we're going to try and put him right back into the channel. Oakland, California, Stockton California, where he grew up. He's got some family and friends out there. Hopefully he likes our offense and hopefully he gets in great condition and he returns to health. We'll see what happens."
That "returns to health" line by Gruden sure got Joe's antennae up, but Joe won't speculate here.
Ironically, Walsh himself lectured Ira in person years ago in Tampa about the benefits of getting rid of a player a year to early rather than a year too late. … The Bucs could have used that advice with Martin last year.
Joe truly wishes Doug Martin well. It sure would be something if Chucky resurrected his career.