Dirk Koetter, Not A Rookie Running Back Guy
February 22nd, 2018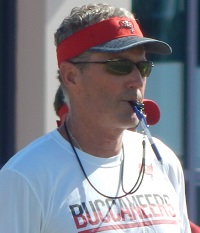 The fearless leader of the Buccaneers, Dirk Koetter, has been an offensive coordinator in the NFL for 11 seasons.
Take a wild guess how many of those teams featured a rookie RB?
(Hint: It's the same number of sacks blitzing Lavonte David and Kwon Alexander combined for last season.)
That's right: zero.
When Koetter arrived in Jacksonville in 2007, Maurice Jones-Drew was in his second season. Veteran 31-year-old running back Fred Taylor was Koetter's starter and bellcow, despite Jones-Drew having a dominant and explosive rookie season the previous year under a different playcaller.
Joe is not picking on Koetter here. Heck, Taylor made his first Pro Bowl in '07, and he is 17th all-time in career NFL rushing yards.
The point is. Koetter didn't go with the younger, more talented running back at the time.
Jones-Drew then took over through Koetter's remaining years in Jacksonville before Koetter landed in Atlanta in 2012.
Nine-year veteran Michael Turner was the Falcons' lead back. Then Atlanta brought in 30-year-old Steven Jackson for the 2013 season. He was brutal but still was brought back to start in 2014. (Sound familiar?) That season a flashy and healthy rookie named Devonta Freeman was made to ride the bench behind ancient ineffective Jackson. Freeman was given just six carries a game.
That bad season blew up the Falcons regime in Atlanta and Koetter came to the Bucs. As the story goes, Koetter pushed the Bucs hard to keep Doug Martin and give him one more shot to make up for his poor 2013 and 2014 seasons.
The rest is history. For three consecutive drafts (2015-2017) it seems Martin's presence and Koetter's fondness of veteran backs helped keep Tampa Bay from drafting a quality RB. And it cost Peyton Barber valuable reps last year, ones that might have given Bucs personnel gurus a better sense of how good he really is.
So here we are. The Bucs need fresh, talented legs at running back.
Will they rely on a rookie stud? If so, it'll be a first for the head coach. Carlos Hyde, anyone?