"You Kiss And You Make Up"
December 28th, 2017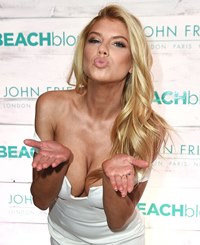 All is good with offsides-jumping, belly shirt-wearing, practice-hating, kicker-heckling, tree-grinding , non-contact-football-loving, chicken-wings-grilling, playing-time-squawking, TV-cooking-star, half-sack Swaggy Baker.
That's the word from Bucs defensive coordinator Mike Smith.
Yesterday, when Smith took the lectern at One Buc Palace for what possibly was his final press conference, a big topic of conversation was still the locker room hassle Sunday evening that was sparked by Swaggy.
(This week Joe had heard from a trusted source what was already being whispered: it was Kwon Alexander and America's Quarterback, Pro Bowler Jameis Winston, who took umbrage to Swaggy's who-gives-a-s(p)it 'tude and went after him. Swaggy yesterday declined to be available to the local pen and mic club.)
Smith — who refused to go into details about the hassle because he claimed he didn't see it — believes the Bucs locker room is full of love and harmony now.
"A locker room is like a family," Smith said. "You're going to have squabbles and guess what happens when it is over? You kiss and you makeup and you move on. You move forward. These guys are now focused on moving forward and getting a win against the New Orleans Saints this week."
Joe isn't going to relay what he heard that Jameis hollered at Swaggy during the locker room fracas because Joe cannot verify it, but let's just say if you watched "Hard Knocks" this past August, it wasn't just the rookies who noticed Swaggy loafed his way through practices.
Oh, and yesterday, Smith backed up what Gerald McCoy had said that on the fateful fourth down in which Swaggy jumped offsides, Swaggy indeed should have been watching the ball to prevent an encroachment penalty.
Knowing how much both suits and coaches at One Buc Palace think so highly of Jameis and Kwon, and given how it is clear just about everyone understands what a drag Swaggy is on the roster (and a Team Glazer accounting spreadsheet), this guy Swaggy is toast in a few days.
The Bucs should just do the right thing and Anthony Collins this character and tell him to just stay home this week and do another TV hit grilling wings.