Jets Embarrass The Bucs
November 3rd, 2017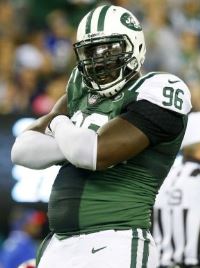 No, the Bucs did not play the Jets on Thursday Night Football. Still, Gang Green shamed the Pewter Pirates on national TV.
Those watching the Bills-Jets game last night saw the Jets, which use a three-man defensive front as a base defense, rack up seven sacks. That's sacks on a mobile quarterback like Tyrod Taylor, not some stiff like Mike Glennon.
Why is this significant? Well, the pass rush of the Bucs (what edge rush?) has a grand total of seven sacks this season. So, you guessed it. In one game, the Jets — the Jets! — racked up as many sacks as the Bucs have through seven games. That's just shameful.
Joe decided to do some hunting and pecking and noticed the combined average game salary of the Bucs starting front four (Will Gholston, Gerald McCoy, shy, belly shirt-wearing, practice-hating, kicker-heckling, tree-grinding , non-contact-football-loving, chicken-wings-grilling, playing-time squawking, TV cooking star Swaggy Baker and Robert Ayers) is $2,062,500 per Spotrac.com. That's just Joe throwing this out there for reference.
To be totally factual, not all seven Bucs sacks have come from the aforementioned defensive linemen. Linebacker Adarius Glanton has a sack as does defensive end Noah Spence, who is on the injured reserve list. Reserve defensive lineman Clinton McDonald is tied with GMC with a team-high two sacks. Add Ayers' lone sack, and that accounts for the vaunted seven sacks. (Sunday's Bucs opponent, New Orleans, has 19 sacks.)
The Jets, of all teams, demonstrated just how woeful and behind the Bucs are from decent teams in the NFL when it comes to rushing the passer.