LAST DAY To Vote; Please Help!
November 3rd, 2017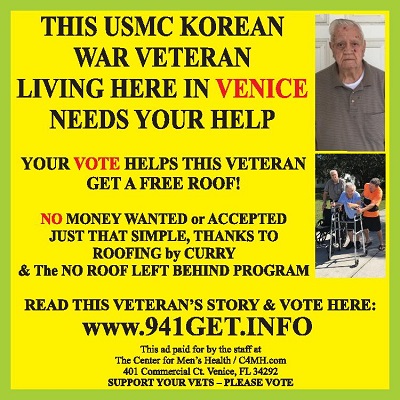 Please help by voting!  Voting ends TODAY and Mr. Hamrick is in a very tight race. 
Charles Hamrick is a local Korean War Veteran who was a member of the Marines' Elite Special Ops force. His wife Joann has been suffering for the past five years from a severe progressive neurological condition that leaves her requiring constant care. Mr. & Mrs Hamrick have been married 56 years and survive on a small pension and Social Security.
Charles and his son provide Joann's care — at home — with extremely little outside assistance.
Sadly, their roof fell apart and they can't afford to fix it. A neighbor paid to remove raccoons from the home recently, and to clean up water damage and provide a very temporary fix.
The good news is the Hamricks are a finalist for a donated roof courtesy of Roofing By Curry in Sarasota, as part of a program to help the needy. But to get the free roof, they need the most votes.
Click here to vote and to learn more about their story.*ONCE YOU VOTE YOU WILL GET AN EMAIL TO CONFIRM; YOU MUST CONFIRM YOUR VOTE BY CLICKING ON THE EMAIL CONFIRMATION.*