Ira Kaufman's 10 Takeaways From Bucs-Saints
November 5th, 2017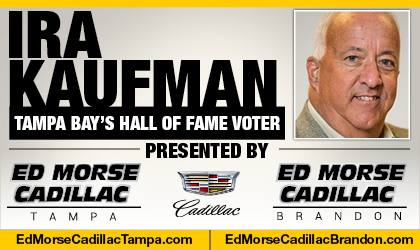 Ira Kaufman is the most beloved, revered and esteemed Buccaneers columnist in town. He has hung his hat at JoeBucsFan.com world headquarters since July 2016. Tampa Bay's only Pro Football Hall of Fame voter, Ira busts out columns here every Monday, Wednesday and Friday, and his award winning podcasts fire Tuesdays and Thursdays. You can also see Ira every football Sunday at 10:30 a.m. on FOX-13, Scott Smith's Tailgate Sunday.
BY IRA KAUFMAN
A month ago, I declared the Bucs were ready to make a move.
I had no idea that journey would land them squarely in the NFC South basement, where they have dwelled for most of the past six seasons.
This five-game tailspin is testing the patience of even the most faithful of Tampa Bay supporters. Some Stick Carriers are hoisting pitchforks instead, hoping to rid One Buc Place of fakes and frauds.
There are enough of each to go around.
Sunday's galling setback at the Superdome had a familiar stench—the Bucs couldn't run effectively or rush Drew Brees effectively. Add a glaring special teams breakdown to the mix and you have a losing gumbo against a division opponent you already trail by four games.
Many jobs will be on the line in the next eight weeks, big jobs and little jobs. Dirk Koetter is embarrassed, Mike Evans is repentant and Jameis Winston is in agony.
Here's the latest autopsy:
* In this week's tale of two linebackers, Lavonte David continued to shine while Kwon Alexander continued to struggle. David has forced four fumbles in the past four games, restoring his reputation as a playmaker. Alexander has been taking bad angles since returning to action in Buffalo.
* We finally had a Peyton Barber sighting after Doug Martin averaged less than one yard per carry. Barber ran hard, broke tackles and made defenders miss while generating 34 tough yards. We need more Barber, less Martin. the rest of the way.
* The weekly sack report doesn't seem to change. On a Sunday they needed to move Brees off his spot, Tampa Bay registered one sack and two QB hits. The Bucs need at least two new starters on the defensive line in 2018, maybe three.
* All of these new weapons for Winston don't mean diddly because the offensive line keeps getting pushed around. Run blocking was passive, as usual, and pass blocking took a major step backwards as the Saints generated four sacks and nine QB hits. Someone want to block Cameron Jordan?
* All we heard in the offseason was the need for explosive plays. Tampa Bay's two longest gains of the day came courtesy of Ryan Fitzpatrick, a 15-yard QB scramble and a 15-yard pass to Bernard Reedy. Meanwhile, New Orleans reeled off nine plays that gained at least 16 yards.
* The Bucs weren't a bad road team last year, but times have changed. They are now 0-4 away from RayJay, allowing an average of 33 points per game. Aaron Rodgers can't believe he's not getting his turn at-bat Dec. 3 in Lambeau.
* Mike Evans bottomed out Sunday in several ways. First, he caught all of one pass despite being targeted six times. That lack of production probably factored in when Evans lost his cool along the sidelines. Koetter had an opportunity to take a stand by benching Evans, but that didn't happen. Koetter says he didn't see the transgression. One of his assistants should have told him. Either way, Evans needed to take a seat.
* Tampa Bay's third-down defense was a revelation last fall. Now, it's the gift that keeps giving. In the past three weeks, opponents have converted 25-of-46 third-down situations. You can't win like that. You can't keep your job as defensive coordinator like that.
* The excruciating playoff drought will soon reach 10 years and counting … not exactly a golden decade. That span encompasses five head coaches, three general managers and 34 pass rushers who tried to make Buc fans forget about Simeon Rice.
* For the long-term health of the franchise, the Glazers should strongly suggest that Winston be shut down for awhile. Winston doesn't get a vote because he'd play with a fractured fibula. Let him return when he's had a chance to heal, physically and mentally, from this trauma of a season.