14 Monday Morning Headscratchers
November 6th, 2017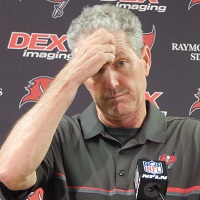 There's no way Joe will sleep tonight.
So here's some of the Bucs-related stuff buzzing through Joe's head:
1 – So the Redskins let DeSean Jackson and Chris "Swaggy" Baker walk this past offseason, along with 1,000-yard receiver Pierre Garçon, and yet they're a solid, competitive football team at 4-4 with Bruce Allen calling the shots.
2 – When your team has lots of talent and it's absolutely alley-beaten in four of eight games midway through a season, there's almost no such thing as an overreaction by fans or ownership to a 2-6 record.
3 – Injured, out of the game and then entering the field of play to instigate an opponent is a profound level of stupid, yet America's Quarterback, Jameis Winston, did just that yesterday.
4 – The delay of game penalties and other pre-snap penalties by the offense yesterday are among the biggest red flags when it comes to Dirk Koetter. This is Year 3 of his offense. Same QB with many of the same linemen. Sloppy, sloppy, sloppy.
5 – If Jason Licht and Koetter really want radical change, then a few players should be cut today.
6 – What if the Bucs did the smart thing this offseason and had Patrick Murray competing with Nick Folk instead of a kicker they already knew was mentally weak/damaged?
7 – The loss of Will Gholston with a scary neck injury should make the defensive line worse, but how much worse can it really get?
8 – The loafers on Alvin Kamara's first-half touchdown are Robert McClain, Vernon Hargreaves, T.J. Ward and Kwon Alexander. What kind of defense do you have when guys quit while their teammate is trying to wrap up a dangerous runner at the 8 yard line. Sickening video here.
9 – With Doug Martin suspended for the first three games, and the Bucs in desperate need of running back help entering free agency and the draft, there's no doubt a member of Team Glazer asked Jason Licht what he thought of bringing in Adrian Peterson for a look. Joe's confident the words "washed up" were invoked. Peterson, after humiliating the Bucs last month, dropped 159 yards on 37 carries against the 49ers yesterday.
10 – Imagine if your job this morning was selling Bucs tickets.
11 – Watch the Jaguars play defense and you'll see a unit that looks like it literally wants to murder someone. The Bucs' defense? Totally different animal.
12 – Lurking out there is Miko Grimes, who could, if she chose to, drop a whole lot of ugly truths about this Bucs team on Twitter. Joe's not against that, but it sure would make things worse than they already are.
13 – If the NFL suspends Mike Evans one game for his cheap shot, which he would deserve, the silver lining would be a full-game dose of Chris Godwin. Joe thinks that would turn out well.
14 – Koetter and Titans head coach Mike Mularkey run nearly identical offenses. They readily admit it. Mularkey is 5-3 and his team has put up points, despite brutal backup QB Matt Cassell getting his share of playing time this season. Koetter's system is not the problem.