The Rhinoceros In The Room
October 23rd, 2017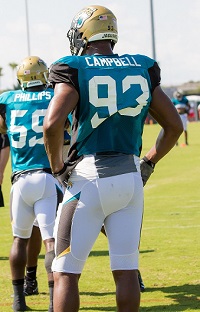 All season long, and all yesterday afternoon, Joe got pounded on Twitter and by text and email about the Bucs' notorious 2017 finger wag in free agency.
Joe's talking about Jaguars defensive tackle Calais Campbell and his 10 sacks through the first seven games of this season.
In the offseason, general manager Jason Licht and his personnel team determined the Bucs needed a boost in the interior of their defensive line. Joe and many others agreed long before Licht every revealed his desire as the free agency dinner bell rang in March.
Go get versatile manbeast Pro Bowler Campbell in free agency, cried Joe, Ira Kaufman and The Commish repeatedly.
CBS Sports alleged the Bucs were sniffing Campbell (made sense), but in the end Campbell went to Jacksonville without ever even talking to the Jaguars coach or GM. He looked at Jacksonville's defensive talent and the $15 million per season on the table, and signed the contract.
Licht signed Chris "Swaggy" Baker instead, a deal that delivered $6 million this season.
The Jags got a franchise-changing player. What the Bucs got was an out-of-shape and banged up guy with a second rate work ethic, a guy who is producing little, complaining loudly and displaying an overall attitude that clashes horribly with the team-first approach demanded by the face of the franchise.
Joe let the Campbell thing go a while ago, but many fans can't since Campbell keeps ringing up sacks the way the Bucs defense coughs up big plays. Campbell's 10 sacks stand tall above the Bucs' team total of seven.
Dirk Koetter said the Bucs couldn't afford Campbell. Pffft! Joe countered saying the Bucs couldn't afford to put potential salary cap management ahead of pressing needs. Keyword there is "potential," since promising players are as prone to serious injuries and production slips as anyone else.
In the end, any Campbell crying and moaning is really about Baker being a non-factor.
Joe would suggest trading Baker before next week's NFL trade deadline, but Joe knows Baker's market value is so flimsy the Bucs are better off keeping him and hoping he shuts up and produces.