"How Would You Have Liked Us To Do That?"
September 19th, 2017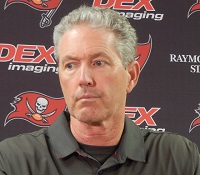 The behind-the-scenes world of local Buccaneers media is not a pretty place. But that's not for public consumption since it's behind the scenes.
In public, however, there is one element that has taken an entertaining life of its own.
That would be the way WFLA-TV Bucs analyst Roy Cummings gets under the skin of winning head coach Dirk Koetter.
One tense moment could happen with anyone. Twice is noteworthy. Four and five times? Well, that's all kinds of fun.
Yesterday seemed to be Exhibit G in the Cummings-Koetter tension party. Late in Koetter's news conference, Cummings started talking to Koetter about a weak pass rush but didn't ask a question before getting cut off.
Cummings: There's one thing people still wonder about with this team through the offseason, why you didn't fortify yourself a little bit at defensive end, just get more pass rush help. But then when you look back at the fact you had 21 sacks the second half … [cut off by Koetter]
Koetter: How would you like us to fortify it, Roy? How would you have liked us to do that? Would you like us to maybe [cut off by Cummings]
Cummings: I'm not [cut off by Koetter]
Koetter: Well you're asking the question, so I'm asking you. So, you're asking me a question. How would you like us to fortify it? We could have given up Kendell Beckwith. We could have given up O.J. Howard.
Cummings: You could have got Calais Campbell [in free agency].
Koetter: Well, we could have, but we didn't have $17 million laying around.
You can watch the rest and the entire news conference here, via Buccaneers.com. Koetter went to on say teams can't run out and sign all new players for a perceived weakness. Koetter loves his players, he said, and they'll continue to be treasured and coached.
Joe has noticed a pattern with Koetter. Ask a question and he'll answer it candidly 90+ percent of the time. Sound like you're pontificating as part of long build up to a question, and Koetter will turn sour in a hurry.
Joe finds this all great entertainment worthy of sharing — since it is made public by the Buccaneers online and promoted by the team for fans to enjoy. As Raheem Morris used to like saying, "We're all entertainers."
Regarding "$17 million" for Calais Campbell, the manbeast Jaguars defensive end/tackle who left the Cardinals last offseason, well, he only cost Jacksonville $15 million per season. And subtract the $5 million annually the Bucs paid defensive tackle Chis Baker in March, and the Bucs certainly had the cash to sign Campbell.
Joe's not cracking general manager Jason Licht for not signing Campbell, but money certainly shouldn't have been the issue. The Bucs have plenty of cash available under the salary cap.