Lavonte David Will Miss Games
September 24th, 2017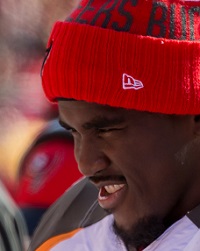 Bad news from NFL Network reporter Ian Rapoport.
Joe already wrote about how Lavonte David needed major help getting off the dreaded cart in tunnel at the Vikings stadium. It took a couple of guys to move him and David was in a lot of pain. (See the home page for posts and a photo.)
Now NFL Network super insider Ian Rapoport is Twittering that David has a high ankle sprain and will miss games.
@rapsheet – Bucs star LB Lavonte David suffered what is believed to be a high-ankle sprain today, source said. MRI Monday to see how long he's out.
The high ankle sprain is a miserable injury for a football player, and David's appeared to be particularly bad. The TV footage was gruesome, and what Joe saw of David outside the locker room certainly wasn't pretty.
Joe will speculate that the Bucs and their fans will be lucky if David misses just four games.
Joe doesn't even want to think about what the defense might look like against New England and the Giants if Kwon Alexander isn't ready to return from his "re-tweaked" hamstring.
Is it time for Joe Dirt?