Dirk Koetter Talks About Kwon's Hamstring
September 22nd, 2017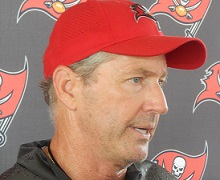 It's rare to get any kind of detail from Dirk Koetter about a Buccaneer injury.
Koetter likes to refer media to the official injury report, which is about as descriptive as a Walmart milk jug.
So Joe nearly dropped his craft beer and Abe's wings tonight when Koetter spoke of Kwon Alexander's bad hamstring on SiriusXM NFL Radio.
Koetter said it was "re-tweaked" against the Bears during Kwon's interception return of Mike Glennon. Koetter said Kwon went all "Bo Jackson" on the return and that took out his hammy.
As Bucs fans know, Kwon didn't practice the rest of the week.
The Bucs are in an interesting spot. Kwon's hamstring surely needs rest and rehab to heal well. After the Vikings game Sunday, the Bucs will play two games in 11 days, the Giants followed by the Patriots on Thursday Night Football. Might it be prudent to just sit Kwon through the Pats game and bring him back October 15?