The Cellar Is In Play
December 20th, 2016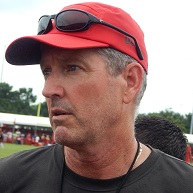 Lots of pessimistic Bucs fans are lurking out there.
You probably know a few. So for those folks, Joe has done the NFL calculus.
The results are in, and the Bucs can still finish in last place. If that unthinkable happened, then the Bucs would be NFC South cellar dwellers for six consecutive years.
If the Bucs finish with losses Saturday in New Orleans and home on New Years Day to Carolina, Tampa Bay would be 8-8. If the Saints and Panthers (both 6-8) close the season with wins, then there would be a three-way tie below division-champ Carolina.
Enter the official tiebreaker math.
First, all three teams would have the same 3-3 division record. So the tiebreaker moves on to records against common opponents. In that scenario, the Saints are victorious. So they take second place.
The next tiebreaker is conference record, and the Panthers would best the Bucs by one game in that scenario and take third place.
Look, Joe's not dropping a bunch of bad karma on the Bucs. They should beat a very flawed Saints football team on Saturday. Joe's just spreading Christmas joy to the pessimistic fans who seem to get off on doomsday scenarios.