The JoeBucsFan.com 2016 Season Prediction
September 6th, 2016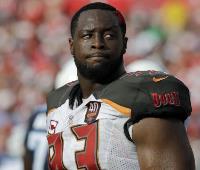 Joe believes the Buccaneers will be a better football team this season.
Absolutely!
But better doesn't mean good, and Joe defines good as winning more games than you lose.
Simple as that, as Lovie Smith would say.
Lots of good things have aligned for Tampa Bay. Franchise quarterback. Check. Proven weapons for him. Check. Strong offensive line. Check. Balanced attack and battle-tested playcaller. Check.
The defense also should be improved just by virtue of the coordinator change to Mike Smith. Toss in Brent Grimes and Vernon Hargreaves, and that's a special talent upgrade.
Joe likes defensive end Robert Ayers a bunch, but Joe remains skeptical of what kind of difference maker he really will be, just as Joe was when Ayers was signed.
After Ayers' arrival, it was disheartening to hear Bucs players and Ronde Barber talk about how Tampa Bay needed a personality like Ayers' in the locker room. Really? So there was no other fight-to-the death mentality infecting the team with the passion of a rabid dog?
Why the hell not?
Coaching Challenges
First-year head coaches have a learning curve. So do new coordinators radically changing a defensive mindset and scheme.
Joe can't pretend those challenges won't exist for Dirk Koetter and Mike Smith.
The difference between winning and losing is razor thin in the NFL, and a defense firing on the same page and playing fast and smart usually takes time. Not time like Lovie Smith's three-year plan for defensive competence, but it's reasonable to expect the defense will need at least five games.
First-year coaches also have been known to take their share of lumps when it comes to game and clock management. Joe doesn't recall Koetter getting immunized against that. Mike Smith had a world of problems in that realm as his Atlanta tenure came crashing down.
Joe expects the Bucs to play .500 ball in the NFC South, a 3-3 record, just like in 2015.
Division games are tough, and the Bucs are in a tough division. Matt Ryan, Drew Brees and Cam Newton are excellent quarterbacks, and not one of their head coaches has a losing record. That latter fact is no an accident. Good coaching matters.
Depth Considerations
That leaves the non-division schedule:
at Cardinals, Sunday, Sept. 18, 4:05 p.m.

RAMS, Sunday, Sept. 25, 4:05 p.m.

BRONCOS, Sunday, Oct. 2, 4:05 p.m.

at San Francisco, Sunday, Oct. 23, 4:05 p.m.

RAIDERS, Sunday, Oct. 30, 1 p.m.

BEARS, Sunday, Nov. 13, 1 p.m.

at Kansas City, Sunday, Nov. 20, 1 p.m.

SEATTLE, Sunday, Nov. 27, 4:05 p.m.

at San Diego, Sunday, Dec. 4, 4:25 p.m.

at Dallas, Sunday, Dec. 18, 1 p.m.
Considering the Bucs' lack of depth at wide receiver, and what the Tampa Bay defense might look like if Gerald McCoy misses a couple of games or must play hurt – as often is the case — Joe can't see the Bucs pulling more than five wins out of the pile of non-division games.
Hardly sexy or satisfying, an 8-8 record would be a big step forward for the Bucs.
What a mental hurdle it would clear for the team. Finally, the Bucs would break free from being an NFC punching bag. And barring a truly freak year, that 8-8 record would take them out the NFC South basement for the first time since 2010.
Joe would be proud to march into the 2017 offseason with the Bucs having wiped the giant "L" from their forehead. It would be a positive step for a team that collectively hasn't had one in a long time.