McCoy: "I Think This Year Has Been Special"
December 29th, 2016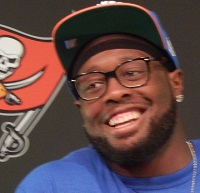 Yesterday, Jameis Winston talked about how this season has not been a success.
Yesterday, Gerald McCoy talked about how this season has been "special."
It was an interesting contrast between the two big faces of the franchises.
"It's great. I think this year has been special," McCoy said in a conference call with Carolina Panthers media, when asked about a Bucs season that meant a playoff run until Week 17.

"We headed on the right path," McCoy added. "It would be great to finish on the up and up" with a win Sunday.
Jameis had a little different mentality on the season.
"I don't view it as a success, just for me. For the organization, for fans, a lot of people are happy. But the mentality of this team, our ultimate goal is win playoff games, win Super Bowls," Jameis said. "It's exciting, it's exciting that we have a chance to have a winning season, but that's not something that we're aiming for at the beginning of the season. We're aiming for the highest and I think as long as we keep expecting the highest and raising our bar, that's the better [team] we're going to become."
No surprise from Jameis. He has been "trying to get away from that standard" of being ok with a pretty good season. It's much like the thought of celebrating mediocrity makes Dirk Koetter "want to throw up."
Joe's not implying that McCoy is throwing a party for the Bucs great run this year, merely highlighting the contrast in expression.
McCoy added to the Carolina media that "you never see quit" in Jameis and he'll bring that attitude to the final snap on Sunday.