Jameis Returns To Brate, Humphries Standard
December 29th, 2016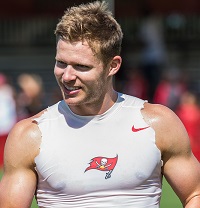 There was a very telling, read-between-the-lines moment in training camp that reappeared yesterday.
In early August, America's Quarterback, Jameis Winston, was asked about Adam Humphries being named No. 3 receiver before a preseason game was played. It was a surprise move by Dirk Koetter. And in his response, Jameis went out of his way to praise the work ethic of Cameron Brate. Yes, Brate's, along with that of Humphries.
Joe took it as a slap to Austin Seferian-Jenkins and a way for Jameis to send a message to the rest of the offense: work your ass off like Humphries and Brate.
Last night on the Buccaneers Radio Network, Jameis again was talking about work ethic and setting maintaining high standards. He went right back to referencing Humphries and Brate.
No surprise, those guys went on to have excellent seasons.
With one game to play, Humphries is sitting on 45 catches on just 70 targets. (For those counting, that's more catches than Louis Murphy ever had in a single NFL season). And Humphries has racked up 528 yards and two touchdowns.
Man, if the Bucs can score a quality No. 2 receiver in free agency, and draft one, Jameis will be in good hands next year.