"Trying To Get Away From That Standard"
December 25th, 2016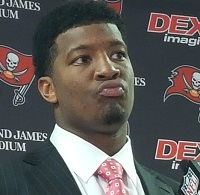 Is there an internal struggle among the Buccaneers, a culture-change battle that's still raging on?
America's Quarterback, Jameis Winston, had interesting comments tonight in New Orleans.
Jameis was cool and calm but drained at a postgame podium in the bowels of the Superdome. He had no interest in chatting about benched Doug Martin, but Jameis was happy to respond to a question about whether he's been considering how getting nine victories would mean his first winning NFL season.
"Not at all, man. I wanted to make the playoffs," Jameis said. "That's my ultimate goal: is to win a Super Bowl. Trying to get away from that standard of just being OK. We want to be great. I mean, I didn't play great tonight, but I'm going to keep working my tail off to keep helping my team get better."
So what the heck is Jameis saying when he claims he and/or the team is "trying to get away from that standard of just being OK."
Jameis made it seem like it's an ongoing struggle.
And who set that low standard?
Was it Lovie?
Was it fans? Remember this text to Dirk Koetter.
Was it media too used to reporting on a losing franchise?
Joe is quite confident Jameis was talking about the mental state of the Bucs roster and the internal effort to transform the team into angry warriors who won't rest until the NFC South trophy is listed.
Man, the Bucs need to beat the Panthers so damn badly next week. This team desperately needs to end the season on a high note.