Koetter: "That Makes We Want To Throw Up"
December 13th, 2016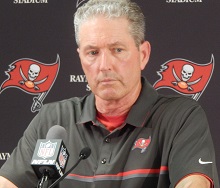 Dirk Koetter isn't carrying the baggage of Bucs fans who endured losing seasons since the 2010 campaign.
Last night, one fan's loser mentality got to the head coach. 
It was a delicious moment on the Buccaneers Radio Network, one of those big motherf#$%'n stick exchanges that have become a Koetter trademark.
Early in his coach's show, a fan texted in a congratulatory take to Koetter that was read to him aloud by host T.J. Rives. The fan was appreciative of Koetter specifically because the Bucs' eight wins means they can't have a losing season this year.
That remark got under Koetter's skin. About 15 minutes later in the show, Koetter brought up the comment and barfed on the sentiment.
"Our mission is not complete," Koetter said. "You know, when you said a minute ago 'congratulations' from the [fan] question on clinching your first non-losing season. I mean, that makes me want to throw up. That's not what we should be thinking about: non-losing season. That's not the goal here. So yeah, things are going well right now. We're playing really good defense right now. We're playing solid on special teams. We got to play better on offense."
Yes, ironically, Joe wrote an entire post Sunday titled, Losers No More, all about the Bucs avoiding a losing season for the first time since the Raheem Morris era.
Like most fans, Joe is/was as beaten down by endless losing. So the post was more symbolic in nature, a representation of positive change, rather than a true celebration of non-losing.
You know, kind of like giving fans a game ball without actually letting them touch it or see it.