A Jameis Double Standard
December 21st, 2016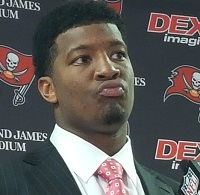 Remember when Mike Evans lost his cool lots of times last season and, subsequently, lost focus on the field?
Joe doesn't recall one person or coach saying. "That's just Mike being Mike, and that's all good."
Yet that's what we hear repeatedly about America's Quarterback, Jameis Winston.
Joe has noted that Jameis has a documented and obvious maturation issue. He loses his cool, costs his team penalty yards, and he puts his body at risk for no good reason. And one could make a case that his emotions too often affect his play negatively.
Will he really be held accountable? Joe's not so sure.
One great beauty of Evans' standout Pro Bowl season is that he was held extremely accountable by wide receivers coach/offensive coordinator Todd Monken. No more whining and crying to officials. No more heated confrontations with cornerbacks. No more thinking about the last drop. Only razor focus allowed.
Evans body-slammed his demons and rose to the ranks of the NFL elite. Kudos to the 23-year-0ld receiver and Monken.
Now it's time for Jameis to make the same stride in his upcoming third season. No more blocking, head-butting, punch-throwing and referee-ass-chewing for starters.
Bark all you want about how Jameis must be allowed to express his personal fire. Yet all the folks saying that seem to be the first to jump all over Evans and others whose "fire" hurt their Bucs team in the past.
It's a double standard Joe won't accept. Jameis can be fiery in ways that don't hurt the team or put himself at risk.