Koetter Absolves Corners
November 1st, 2016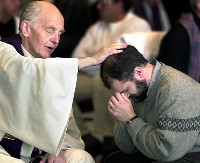 Brent Grimes, Vernon Hargreaves, you are forgiven, my sons.
Those were the words from Bucs coach Dirk Koetter after being asked if the Bucs defense handed the Raiders a win.
In case you missed it or incurred a sudden form of amnesia due to the traumatic blunt force of the galling loss, Raiders quarterback Derek Carr, who wasn't good enough for Lovie Smith, napalmed the defense for 513 yards, one of the greatest passing games in NFL history.
Many Bucs fans immediately began pointing fingers to the Bucs secondary. Koetter said Sunday that is unfair.
"We couldn't get enough pressure," Koetter said. "He finds those guys and they do a good job catching it. I thought [cornerback] Brent Grimes was in position several times and [cornerback] Vernon [Hargreaves III], they were working it over there. I'm still real confident in both of our corners. Coverage's best friend is a good pass rush."
Just SOS, man. Joe isn't saying Koetter is wrong here. He is right. But Jiminy Christmas, what does this franchise have to do to get a consistent pass rusher?
Joe doesn't know what is more dumbfounding: That this outfit has only won 17 home games since the start of the 2009 season (three since Greg Schiano was fired) or that it is a decade since it had a double-digit rusher? Players, draft picks, free agents, defensive line coaches, about the only thing the Bucs haven't tried in order to find a reliable pass-rusher is sacrificing a chicken at midfield.
Granted, the Bucs drafted Noah Spence in the second round, and while his development is slow enough to irk some Bucs fans, he's coming along fine and did put Carr on the ground Sunday for a team-leading three sacks.
Of course, the Bucs could have easily traded up into the second round to draft a guy like Yannick Ngakoue out of Maryland (Joe knows some folks at One Buc Palace were smitten by him), who the Jags drafted in the third round. Ngakoue, who isn't a starter, already has four sacks and two forced fumbles.
This Ngakoue would be leading the Bucs in sacks! But no, the Bucs needed to trade up into the second round to draft Jan Stenerud.
We've heard this and we've heard this and we've heard this over and over and over again since Chucky was prowling the sidelines: The Bucs need a pass rusher. This is just out of hand now and the excuses are long over.
Joe sure hopes Bucs AC/DC-loving general manager Jason Licht stocks up on two positions in free agency and the draft: pass rusher and wide receiver.
When oh when is Team Glazer finally going to get fed up with this constant void in their roster? When will enough be enough for them? Or do they actually enjoy all those visiting fans sitting in the lower bowl of their home stadium?