Cecil Shorts Finally Made A Play
November 13th, 2016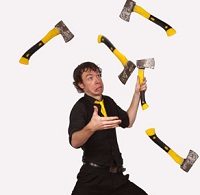 Joe's been screaming for starting wide receiver Cecil Shorts to make a big play.
Finally, he did that today.
First, Shorts juggled away a pass from America's Quarterback, Jameis Winston, deep in Bucs territory. It fell right into the hands of a Bears defender and led to Chicago's first score, a 54-yard field goal by everybody's favorite kicker, Connor Barth.
Later in the first half, Shorts redeemed himself a bit and flashed some speed with a 22-yard catch over the middle from Jameis. It was Shorts' fourth catch of the year. His fifth catch was a sharp-looking, 16-yard out route during the Bucs' two-minute drill to close the first half.
Yes, it's a such a monumental event when Shorts makes plays, Joe has to write about it!
Joe hopes there's more of the good stuff coming from Shorts. Bucs desperately need him to rise up.