Was The Plan To Avoid Mike Evans?
November 13th, 2016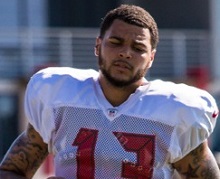 Updated 6:13 p.m.: Joe's trying to make sense of the Bucs only throwing once to Mike Evans in the first half today, a completion that was nullified by a penalty.
Coming off a concussion in the Bucs' last game, Evans was ready to play. But perhaps the Bucs wanted to avoid having him get his usual healthy diet of opportunities.
That would make sense, if Tampa Bay wanted to avoid Evans taking shots to the head.
Last year, when Evans debuted in Week 2 following an injury, he only had three balls thrown his way in a win against the Saints. On his former radio show, Evans said he was more of a decoy in that game.
Evans was more of a decoy today until he got on the back end of the incredible backyard football scramble and throw by America's Quarterback, Jameis Winston.
Joe's not complaining. The Bucs won easily, and Evans still finished with four catches for 66 yards on five targets.
UPDATE: Evans told Joe after the game there was no plan to lighten his load. It was just the way the game played out with extensive double-teaming on him and other guys getting open.