Gerald McCoy Wants To Do More TV
May 18th, 2016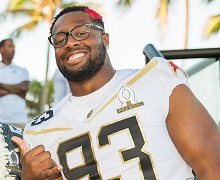 Gerald McCoy has said repeatedly that he would like to be a Hollywood star, but it seems his entertainment desires are expanding.
Local television has McCoy's attention.
Last week, McCoy was a guest co-host on Daytime, the WFLA-TV, Ch. 8, show that often deals with cooking, fashion, relationships and other subjects that pull significant numbers of female viewers on weekday mornings.
McCoy hosted the early segment of the broadcast. Joe tuned in late and thought McCoy hadn't appeared yet, so Joe learned all about seasonal swimsuits and so much more. (Ugh!)
Buccaneers.com followed McCoy and produced a neat video. It's all here. McCoy explained that the experience was an eye-opener and let him know he wants to do more.
Perhaps this is what McCoy meant when he advised everyone to "stay tuned."